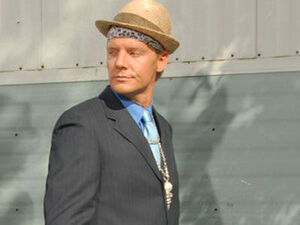 J-Roc (
Jonathan Torrens
), is a rapper who lives in Sunnyvale Trailer Park.
J-Roc is a white rapper who, in earlier seasons, lived with his mother. He speaks in African American Vernacular English and very frequently uses the phrase "You know what I'm saying?" (pronounced, "Gnome'sayin?"). He often helps Ricky and Julian with their money-making schemes. J-Roc is known for buying their stolen goods and selling them the equipment they need for their crimes. J-Roc is also known for directing a couple of pornagraphic films including "From Russia With The Love Bone," "The Bare Pimp Project," and "Greasy Trailer Park Girls Gone Wild." His mother caught J-Roc directing "From Russia with The Love Bone", in which Bubbles and Ray starred in. He and his best friend. Tyrone. fathered children with two different women between seasons five and six, but since neither one of them knew who fathered whom, they agreed to both be the children's fathers. Although they are not sure who the father is, the white female has a black baby and the black female has a white child. The decision to raise the children together only stems from the idea that J-Roc believes he is black. At the end of the series (in the movie "Trailer Park Boys: Countdown to Liquor Day"), J-Roc is unexpectedly discovered to have been quite successful in realizing his dreams of rap stardom - and using his newfound success to fight for the release of Tyrone, who had been imprisoned earlier in the movie. Trademarks: Pasty white skin, his best friend T., the Roc-Pile (his crew), and his refusal to participate in gun fights
Ad blocker interference detected!
Wikia is a free-to-use site that makes money from advertising. We have a modified experience for viewers using ad blockers

Wikia is not accessible if you've made further modifications. Remove the custom ad blocker rule(s) and the page will load as expected.